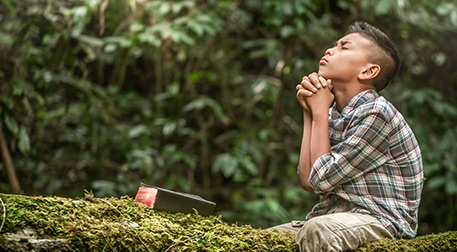 Ruth
Chapter 4 – In the heart and home of Boaz
Ruth has come all the way from the land of Moab into the heart and home of Boaz. And we who were at one time strangers, far from God, without hope in the world, now have been made nigh by the blood of Christ. We today are in the family of God; we are in His heart. And one of these days we are going to be in His home. What a glorious, wonderful prospect we have of someday being with Him!
In this chapter we will see the work of Boaz. He has had to stand aside with his arms folded, but now he is free to move because Ruth has claimed him as her kinsman-redeemer. And I say this reverently to you, brothers and sisters: Christ, like Boaz, is not free to move in your behalf until you claim Him as your Kinsman-Redeemer. Christ died on the cross for you; He went through hell for you; and He even today stands at the door of your heart and knocks, saying, "Behold, I stand at the door, and knock: if any man hear my voice, and open the door, I will come in to him, and will sup with him, and he with me" (Rev. 3:20). But he won't crash the door. You will have to invite Him in. God offers the gift of eternal life in Christ Jesus, but you have to reach out your hand and take it by faith. By faith you receive Christ.
4:18-22 – Well, you and I have a Kinsman-Redeemer. One of the things that is said about Him is that He is able to redeem. Have you ever noticed the many times in the New Testament that it says the Lord Jesus is able? He is able. "Wherefore he is able also to save them to the uttermost that come unto God by him, seeing he ever liveth to make intercession for them" (Heb. 7:25). He is our great Kinsman-Redeemer with the ability to save. That, of course, was true of Boaz. He was called a mighty man of wealth. There was never any question about his ability. And there's never a question about whether the Lord Jesus can redeem. Job could say, "For I know that my redeemer liveth, and that he shall stand at the latter day upon the earth" (Job 19:25). I can say today that I know that my Redeemer liveth, because He is right now at God's right hand, and He stood one day upon this earth. In fact, He hung one day upon a cross that He might redeem us from sin. He is able to save. And were told today that God has highly exalted Him and given Him a name above every name, and that some day every tongue must confess and every knee must bow to Him (Phil. 2:9-11). He is able to save. The question is: Has he saved you? He wants to, and He will if you'll come to Him.