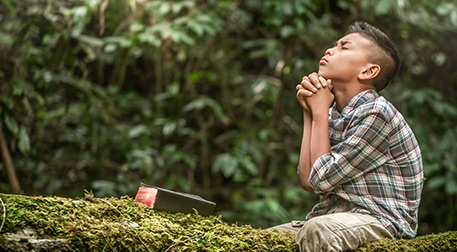 4:1-12
4:1-2 – Sins of ignorance
4:1-2 – The emphasis here is upon a sin committed in ignorance. If a man sinned willfully and deliberately, this offering did not avail. "He that despised Moses' law died without mercy under two or three witnesses" (Heb. 10:28). This speaks of the fact that there is no salvation for a person who willfully rejects Jesus Christ. "For if we sin willfully after that we have received the knowledge of the truth, there remaineth no more sacrifice for sins, But a certain fearful looking for of judgment and fiery indignation, which shall devour the adversaries" (Heb. 10:26-27).
Sins of ignorance reveal the underlying truth that man is a sinner by nature. I must say this to you: You are a sinner whether you know it or not. You are a sinner by nature, and so am I. That is the reason we commit sins. Regardless of the estimation of any given time or custom, man is a sinner. God's attitude toward sin does not change. We do those things which are contrary to God because it is impossible for the natural man to do anything that will please God. Natural man does not have that capacity. He is a sinner by nature. These sins must be called to man's attention. It is sin regardless of who commit's it.
The sins of ignorance were acts committed by a person who at the time did not know they were sin. "Who can understand his errors? cleanse thou me from secret faults" (Ps. 19:12). How we need to confess to God that we are sinful human beings! If you can't think of anything special to confess, then just confess who you are, a sinner.
The sin offering teaches us that we must see ourselves as God sees us. It brings before us the consciousness of sin and our own unworthiness, but also God's provision. "I acknowledge my sin unto thee, and mine iniquity have I not hid. I said, I will confess my transgressions unto the LORD; and thou forgavest the iniquity of my sin" (PS. 32:5). It lifts the guilt complex.
4:3-12 – Sins of the Priest
4:3 – The sin of the priest is considered first, for he stood in the place of leadership. If he was wrong, the people were wrong. His sin was their sin. Like priest, like people. He was to bring a young bullock, the most valuable animal of all, as his offering. You see that the position of the one who sinned determined the type of animal for the sin sacrifice. His sin was no different, but his responsibility was greater.
It is still the same today. "Therefore to him that knoweth to do good, and doeth it not, to him it is sin" (James 4:17). "My brethren, be not many masters, knowing that we shall receive greater condemnation" (James 3:1). Do you want to be a preacher? It makes you more responsible. Do you want to sing a solo? It makes you responsible. Do you want to be a deacon or an officer in the church, or a teacher of a Sunday School class? Then you are more responsible than anyone else. Privilege carries with it a responsibility, and God Himself will hold you to that responsibility.